U.S. Navy Silent Service - Car Metal License Plate Frame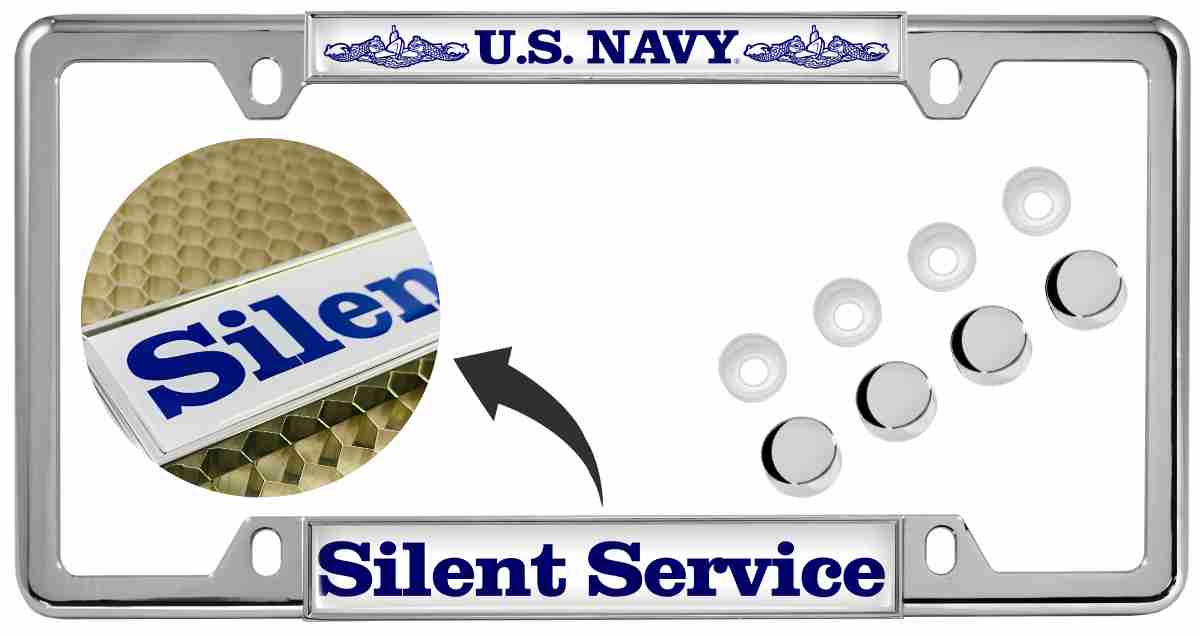 save $4

was:

$31.99

ea

Sale: $27.99

ea
Officially Licensed U.S. Navy Product

These high quality Standard Size 6" x 12" license plate frames are available in 3 different color options: Chrome, Gold or Matte Black finish.
Artwork is printed using unique technology with our special equipment onto UV stable and weather resistant outdoor-grade vinyl and then bonded to the license plate frame. Clear polyurethane doming resin (UV stable for 5+ years) goes on top of the printed design to give it improved, rich, luxury and custom look as well as protect it from extreme weather conditions. Unique Narrow Top design allows to expose the name of the state located at the top of the license plate. Cut-outs in all 4 corners allow you to expose registration stickers/tags in any corner of the license plate. Securing tabs located at the back side of the frame allow you to secure your license plate in place and prevent it from rattling. Frames come with 4 mounting holes and can be mounted with 2 or 4 screws.

Best for the following states: AK, AZ, AR, CA, CT, FL, GA, HI, ID, IL, IA, KS, KY, LA, ME, MD, MA, MI, MN, MS, MO, MT, NE, NV, NJ, NM, NY, OH, OK, OR, PA, RI, SC, SD, TN, TX, UT, VT, VA, WA, WI, WV.
PLEASE NOTE:
Price shown above is for each frame only, not for a set.
Feel free to give us a call or send us email if you need help creating your own exclusive license plate frame.