American Flag - Narrow Top Car Aluminum License Plate Frames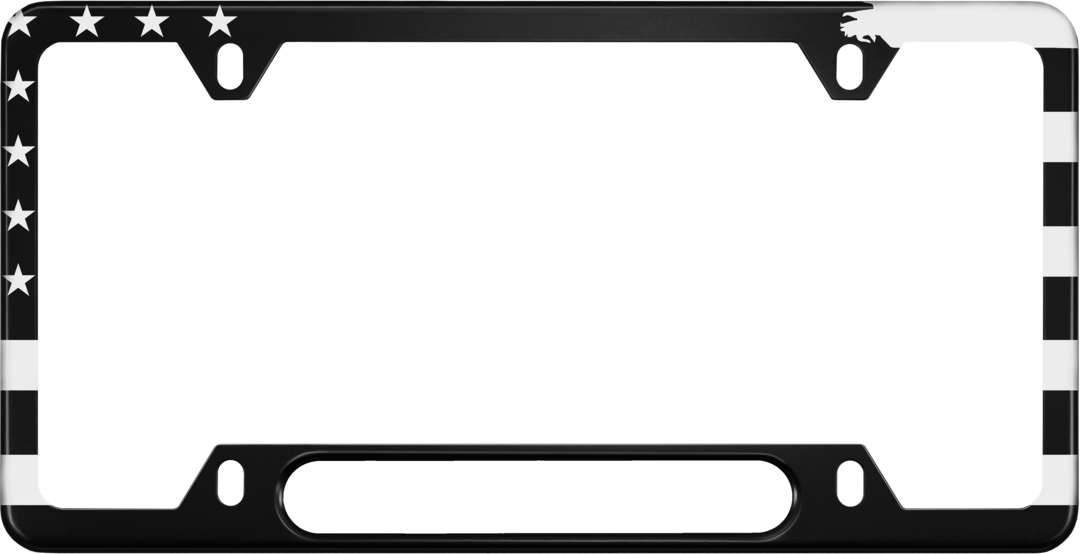 Design
YOUR TEXT HERE!
Fonts:
Arial
Georgia Bold
Georgia Bold Italic
Clarendon BT
Comic Sans MS bold
Cooper
Shrikhand
Carter One
Collegiate
Square 721
Wide Latin
STENCIL STD
Top text:
Bottom text:
Symbol:
$
€
@
«
»
۞
۩
&
†
☼
☺
☻
♀
♂
♪
♫
®
★
☯
✡
✿
✉
✌
☎
♛
♦
♥
♣
♠
⚽️
Γ
Δ
Θ
Λ
Ξ
Π
Σ
Φ
Ψ
Ω
save $4

was:

$35.99

ea

Sale: $31.99

ea
Please note that before engraving our technician will check that your text is centered and aligned properly to fit into engravable area.
Create Laser Engraved Personalized Anodized Aluminum American Flag Custom License Plate Frame for yourself or as a gift.
Due to the high demand of Patriotic car license plate frames we've decided to offer one more style - Narrow-Top Anodized Aluminum license plate frame with American flag pattern on it. Frame has thin top - to expose name of the state located on the top portion of the license plate, besides it has cut-outs in all 4 corners which will allow to show registration stickers no matter what state you are in.
These frames are made of stamped sheet aluminum 1.5 mm thick and available in five different colors: Silver, Black, Blue and Grey/Gunmetal.
Message of your choice will all be laser engraved into American-made UV stable and weather resistant acrylic insert.
Best for the following states: AK, AZ, AR, CA, CT, FL, GA, HI, ID, IL, KS, KY, LA, ME, MD, MA, MI, MN, MS, MO, MT, NE, NV, NJ, NM, NY, OH, OK, OR, PA, RI, SC, SD, TX, UT, VT, VA, WA, WV
These frames fit any standard size 6" x 12" license plate.
We are also able to offer custom logo options for these laser engraved license plate frames.
Feel free to contact us for additional details and information about adding your personal logo to the frame that you are designing.
PLEASE NOTE:
Price shown above is for each frame only, not for a set.
Tags: us_flag_patriotic