Thin Top Car 4-hole Metal License Plate Frames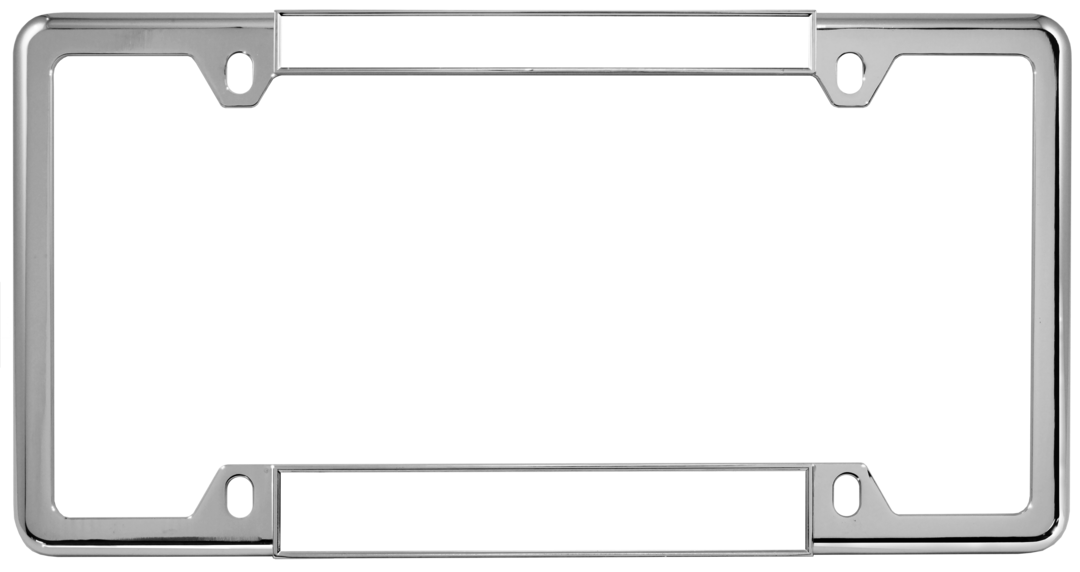 Design
YOUR TEXT HERE!
Fonts:
Arial
Georgia Bold
Georgia Bold Italic
Clarendon BT
Comic Sans MS bold
Cooper
Shrikhand
Carter One
Collegiate
Square 721
Wide Latin
STENCIL STD
Top text:
Bottom text:
Symbol:
$
€
@
«
»
۞
۩
&
†
☼
☺
☻
♀
♂
♪
♫
®
★
☯
✡
✿
✉
✌
☎
♛
♦
♥
♣
♠
⚽️
Γ
Δ
Θ
Λ
Ξ
Π
Σ
Φ
Ψ
Ω
save $4

was:

$32.99

ea

Sale: $28.99

ea
Please note that before engraving our technician will check that your text is centered and aligned properly to fit into engravable area.
Introducing you our NEW custom personalized thin top 4-hole metal laser engraved license plate frames
We are happy to introduce you our NEW metal (zinc) thin top personalized license plate frames.
Frames designed to expose name of the state located at the top of the license plate and have cutouts in all 4 corners in order to expose your registration sticker no matter what state you are in.
Frames available in 3 different finishes: Chrome, Gold and Matte Black Powder coated finish.
Message of your choice will be laser engraved into the UV-stable and weather-resistant American-made acrylic inserts and then bonded to the frame.
Oval vertical slots allow you to slide your frame up or down for better visibility.
Securing tabs located on the back side of the frame allow you to attach your plate with either 2 or 4 screws without any concerns.
Best for the following states: AK, AZ, AR, CA, CT, FL, GA, HI, ID, IL, KS, KY, LA, ME, MD, MA, MI, MN, MS, MO, MT, NE, NV, NJ, NM, NY, OH, OR, OK, PA, RI, SC, SD, TX, UT, VT, VA, WA, WV
Also check out Slim Line CNC Machined Anodized Aluminum Frames for more aggressive and minimalistic look.
PLEASE NOTE:
Price shown above is for each frame